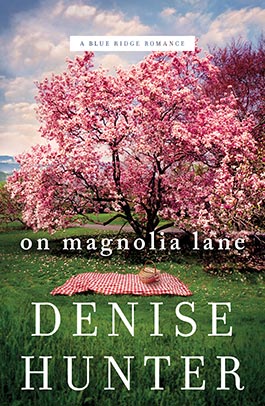 It's exciting when one of my favorite authors brings out a new book. Knowing that this new story will be entertaining and fulfilling is what keeps me reading. Such is the case with Denise Hunter. I have read many of her books, and she never disappoints.
On Magnolia Lane picks up the last of the friends of the Blue Ridge Romance series. And let me say, you don't need to read the first books to enjoy this one. This story about Pastor Jack McReady and Daisy Pendleton is so tender, as Jack falls in love with Daisy, but fears losing her friendship if he proclaims his love for her. Daisy shares her heart with Jack during counseling, and has never seen him more than her Pastor. Where will these uneven feelings lead.
Denise Hunter writes with such understanding and compassion of the human heart and the hurts that come along the way. She brings communication and miscommunication to a level of allowing the reader to understand the feelings her characters are experiencing. It's a great story. And you will want to read the other books in the series, just to get to know about the lives of the other friends of Copper Creek.
I voluntarily reviewed a complimentary copy of this book which I received from the publisher. All views expressed are my honest opinion.